Awe-Struck At The God's Own Country At Mountain Club Munnar!
12.08.2014 09:42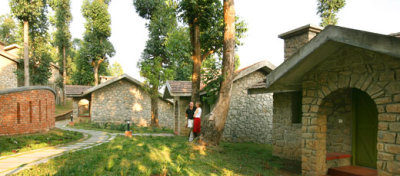 Mountain Club Munnar | Image Resource : tripadvisor.in
The lush green carpets of tea plantations, century old dams, swaying grove and serenity at Munnar captivates every tourists with its mystic charm. The pleasing climate, whining of the breeze and abundant flora makes this place very unique.
The quietness and serene surroundings of this place makes it a favorite hide-out for couples. Take a trip to the Eravikulam National Park here and amaze at the scenic vistas you see in your journey!
To experience all the above head over to Mountain Club Munnar, a perfect resort set out away from the main city in a secluded area. This offers you tranquility beyond belief and the tea meadows surrounding the resort take you to an utterly new world. There are walk trails around the plantations allowing the guests to take a walk relaxing.
Mountain Club Munnar makes you feel Luxury with the Charismatic Stay!
The cottages here are constructed with stones and there are stone pathways connecting to all the other cottages. It gives an ideal fairytale feel when you just get into this resort. There furniture, fittings and the structure of the rooms take you way back to the Stone Age! Family and Honeymoon Villas are the accommodation types and the sizes of the rooms vary accordingly to which one you choose!
Guests can avail the amenities and services inn whichever room type they choose. There are large open theaters where for entertaining the guests events take place. Kerala is well known for Ayurveda therapy, food and cultural activities. Experience everything under one roof here.
Kommentare